What's Happening
MBS Womo Review
Thanks to MyBikeStand.com for a wonderful review and some excellent information about Womo Mounts!
2014 New Product Highlights
Be Seen, Be Prepared, and Be Green with Ortlieb USA! BikeRumor.com says it all with this coverage.
Womo Mounts
Ortlieb USA is thrilled to be the official distributor for Womo Designs, and BikeRumor.com wrote an excellent article detailing the advantages of their innovative designs. Shop our store for yours today or check out their website to learn more!
Messenger Bag XL
We're very excited about our new Messenger Bag XL, which will be available in 2014. Urban Velo provided some great coverage from Interbike 2013.
High Visibility Interbike 2013 Coverage
A great article covering some urban trends from Interbike 2013, highlighting our new High Visibility line which will be released January of 2014. Check out the article here: IB 13 Urban Trends
Ortlieb QL System
Check out the Animated Videos showing the awesome function of our Ortlieb QL mounting.
QL1 System
QL2 System
QL3 System
Nexus Expeditions

Circumnavigating the globe through human power while connecting different societies, civilizations and landscapes.
Ortlieb Sponsors the Down the Road.org
Ortlieb USA is pleased to be the official bicycle bag supplier to Tim Travis as he travels the world by bicycle. Click on the picture of his book above to go to the Down the Road Website. Tim is a wealth of knowledge in the realm of self-contained traveling by bicycle. Their website is entertaining as well as informative. We highly recommend you spend some time there.
The Always Entertaining and Informative Willie Weir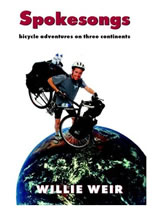 Ortlieb USA has worked with Willie for many years. We're proud to be associated with the Willie Weir Experience. Click on the picture to go to Willie's Website to learn more.